Delta IV WGS-9 Mission Overview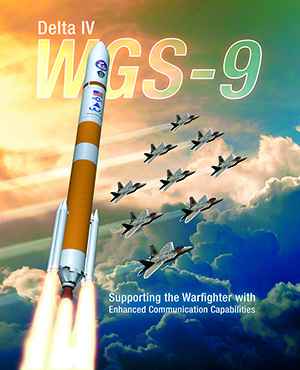 Watch live! Launch broadcast begins March 18 at 7:24 p.m. EDT.
• Click here to watch via the ULA website.
• Click here to watch via YouTube.

Rocket/Payload: A United Launch Alliance Delta IV Medium+ (5,4) rocket will launch the ninth Wideband Global SATCOM (WGS-9) mission for the U.S. Air Force.

Date/Site/Launch Time: Saturday, March 18, 2017, from Space Launch Complex (SLC)-37 at Cape Canaveral Air Force Station, Florida. The launch window is 7:44-8:59 p.m. EDT.

Live Broadcast: The live broadcast begins at 7:24 p.m. EDT.

Mission Description: WGS satellites are important elements of a new high-capacity satellite communications system providing enhanced communications capabilities to our troops in the field. WGS has 19 independent coverage areas, 18 of which can be positioned throughout its field-of-view. This includes eight steerable/shapeable X-band beams formed by separate transmit/receive phased arrays; 10 Ka-band beams served by independently steerable diplexed antennas; and one transmit/receive X-band Earth-coverage beam. WGS can tailor coverage areas and connect X-band and Ka-band users anywhere within its field-of-view. The X-band phased array antenna enables anti-jam functionality without sacrificing performance.

Launch Notes: WGS-9 will mark the seventh flight of the Delta IV in the Medium + (5,4)configuration; all launches in this configuration have delivered WGS missions to orbit. This mission also will be the 35th launch of the Delta IV since its inaugural launch in 2002.

Launch Updates: To keep up to speed with updates to the launch countdown, dial the ULA launch hotline at 1-877-852-4321 or join the conversation at www.facebook.com/ulalaunch, twitter.com/ulalaunch and instagram.com/ulalaunch; hashtags #WGS9 and #DeltaIV.