The 2017 Intern Rocket Launch is scheduled for Saturday, June 24 at the Spaceport America Cup in Spaceport, New Mexico. This year will mark the launch of the world's largest sports rocket at 53-feet-tall. Future Heavy, a multiyear project, engages interns at ULA sites across the country. The Future Heavy will launch various payloads – essentially onboard instruments and experiments. Some of these payloads deploy from the rocket after launch, while others collect data as the rocket descends.
Working with guidance from mentors, elementary, middle and high school students design and build smaller payloads to conduct exciting experiments.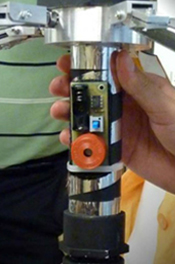 Apply to Submit a Payload in 2018
Elementary, middle and high school student teams can apply for payload spots for the 2017 launch.
Information about the timeline, technical specifications and contact information are included in the Payload Proposal Form. Note: Download the form to complete before sending.
2018 Deadlines
Jan. 28, 2018: Deadline to submit the completed Payload Proposal Form

Feb. 1, 2018: ULA will notify proposal team leaders about selection

Mid-June 2018: Payloads delivered/shipped to ULA

June or July 2018: Student Rocket Launch event
Here's a view of the 2009 payloads just after deployment from the rocket: