Delta II OCO-2 Mission Brochure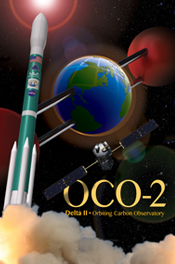 Rocket/Payload: A Delta II 7320 will launch the Orbiting Carbon Observatory-2 (OCO-2) mission for NASA.

Date/Site/Launch Time: Wednesday, July 2, 2014, Space Launch Complex-2 at Vandenberg Air Force Base, Calif. Launch is planned for 2:56 a.m. PDT at the opening of a 30-second launch window.

Mission Description: The observatory is NASA's first satellite mission dedicated to studying carbon dioxide, a critical component of Earth's carbon cycle that is the leading human-produced greenhouse gas driving changes in Earth's climate.

Launch Notes: OCO-2 will be ULA's seventh launch of 2014 and 84th overall.

Launch Updates: To keep up to speed with updates to the launch countdown, dial the ULA launch hotline at 1-877-852-4321 or join the conversation at www.facebook.com/ulalaunch and twitter.com/ulalaunch; hashtag #OCO2.
Go Delta! Go OCO-2!