Delta II SMAP Mission Brochure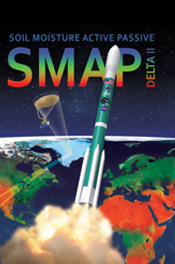 Rocket/Payload: A United Launch Alliance Delta II 7320 will launch the Soil Moisture Active Passive (SMAP) mission for NASA.

Date/Site/Launch Time: Saturday, Jan. 31, 2015, from Space Launch Complex-2 at Vandenberg Air Force Base, California. Launch is planned for 6:20 a.m. PST.

Viewing the Launch by Webcast: The live webcast will begin at 4 a.m. PST.

Mission Description: SMAP will provide the most accurate, highest-resolution global measurements of soil moisture ever obtained from space and will detect whether the ground is frozen or thawed. The data will be used to enhance scientists' understanding of the processes that link Earth's water, energy and carbon cycles.

Launch Notes: SMAP will mark the 52nd Delta II mission for NASA. It will be the second of 13 planned ULA missions in 2015.

Launch Updates: To keep up to speed with updates to the launch countdown, dial the ULA launch hotline at 1-877-852-4321 or join the conversation at www.facebook.com/ulalaunch, twitter.com/ulalaunch and instagram.com/ulalaunch.
Go Delta! Go SMAP!