The Fastest Spacecraft to leave the Earth's Atmosphere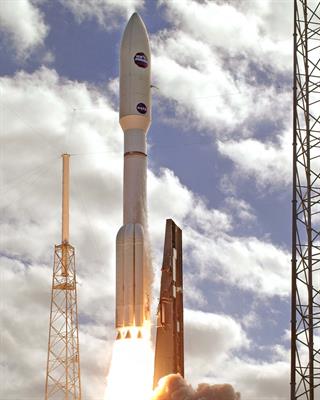 Cape Canaveral Air Force Station, Fla., (July 14, 2015) – An Atlas V rocket successfully launched the Pluto New Horizons spacecraft for NASA on Jan. 19, 2006. The New Horizons spacecraft has traveled more than nine years and three billion miles for today's historic flyby of the dwarf planet, Pluto. New Horizons was the inaugural flight of the Atlas V 551, launched by Lockheed Martin Space Systems Company, prior to ULA's formation in December 2006.

"Today is a historic day for NASA and the entire space community. The New Horizons spacecraft completed its historic flyby encounter of Pluto, an event more than nine years in the making - congratulations to the entire team!" said Jim Sponnick, ULA vice president, Atlas and Delta Programs. "The Atlas V rocket, integrated with a Delta program third stage, launched this baby grand piano sized spacecraft at more than 36,000 miles per hour, making it the fastest object to be launched from Earth. The ULA team is very proud to have played a role in starting this incredible journey and we look forward to amazing discoveries from New Horizons about Pluto and our solar system."

This mission was launched aboard an Atlas V 551 configuration vehicle, which includes a 5-meter diameter payload fairing along with five Aerojet Rocketdyne solid rocket motors attached to the Atlas booster. The Atlas booster for this mission was powered by the RD AMROSS RD-180 engine and the Centaur upper stage was powered by the Aerojet Rocketdyne RL10A engine. This mission used a Boeing third stage, which was originally developed for the Delta II program. This was the first and only use of this third stage on an Atlas rocket. The Boeing third stage provided the increased energy needed for the high performance requirements of this mission.

New Horizons seeks to understand where Pluto and its moons fit in with the other objects in the solar system. The purpose of the Pluto New Horizons mission is to understand the formation of the Pluto system, the Kuiper Belt and the transformation of the early Solar System. The spacecraft will study the atmospheres, surfaces, interiors and environments of Pluto and its moons. It will also study other objects in the Kuiper Belt.

With more than a century of combined heritage, United Launch Alliance is the nation's most experienced and reliable launch service provider. ULA has successfully delivered more than 90 satellites to orbit that provide critical capabilities for troops in the field, aid meteorologists in tracking severe weather, enable personal device-based GPS navigation and unlock the mysteries of our solar system.

For more information on ULA, visit the ULA website at www.ulalaunch.com, or call the ULA Launch Hotline at 1-877-ULA-4321 (852-4321). Join the conversation at www.facebook.com/ulalaunch, twitter.com/ulalaunchand instagram.com/ulalaunch.