Atlas V Morelos-3 Mission Booklet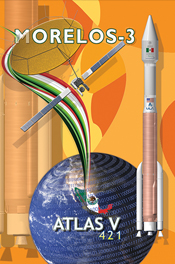 Rocket/Payload:An Atlas V 421 will launch the Morelos-3 mission for Mexico's Secretaria de Comunicaciones y Transportes (Ministry of Communications and Transportation). The United Launch Alliance Atlas V is provided by Lockheed Martin Commercial Launch Services.

Date/Site/Launch Time: Friday, Oct. 2, 2015, from Space Launch Complex-41 at Cape Canaveral Air Force Station, Florida. The launch window is 6:08–6:28 a.m.EDT.

Webcast: The live broadcast will begin at 5:48 a.m. EDT.

Mission Description: Morelos-3 will be part of the Mexsat constellation of satellites owned by Secretaria de Comunicaciones y Transportes and operated by Telecomunicaciones de Mexico that delivers advanced telecommunications throughout Mexico.

The Mexsat program provides secure communications for Mexico's national security needs in addition to providing communications to rural zones, as a complement to other existing networks. These satellite communication services include education and health programs, voice, data, video, and internet services.

Launch Notes: Morelos-3 will be the 57th Atlas V launch since the vehicle's inaugural mission in 2002 and the fifth in the 421 configuration.

Launch Updates: To keep up to speed with updates to the launch countdown, dial the ULA launch hotline at 1-877-852-4321 or join the conversation at www.facebook.com/ulalaunch, twitter.com/ulalaunch and instagram.com/ulalaunch. Hashtags: #Morelos3, #MexSat and #AtlasV.
Go Atlas! Go Centaur! Go Morelos-3!