Click here to watch live coverage of the Atlas V OSIRIS-REx launch. Coverage begins Sept. 8 at 4:30 p.m. EDT.

Atlas V OSIRIS-REx Mission Overview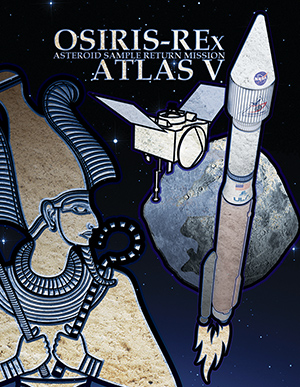 Rocket/Payload:A United Launch Alliance Atlas V 411 configuration rocket will launch the Origins, Spectral Interpretation, Resource Identification, Security-Regolith Explorer (OSIRIS-REx) mission for NASA.

Date/Site/Launch Time:Thursday, Sept. 8, 2016, from Space Launch Complex (SLC)-41 at Cape Canaveral Air Force Station, Florida. The launch window is 7:05-9 p.m. EDT.

Webcast: Live launch coverage will begin at 4:30 p.m. EDT.

Launch Notes: OSIRIS-REx marks the 65th Atlas V launch and the fourth in the 411 configuration. This also will be ULA's 111th launch since the company was formed in 2006.

Mission Description: The OSIRIS-REx mission will help scientists investigate the origins of our solar system, how water and organic material traveled to Earth, and increase understanding of asteroids that could impact Earth. In addition, the sample returned to Earth will further our understanding of water, organics and precious metals on asteroids, which could fuel future exploration missions.

Launch Updates: To keep up to speed with updates to the launch countdown, dial the ULA launch hotline at 1-877-852-4321 or join the conversation at www.facebook.com/ulalaunch, twitter.com/ulalaunch and instagram.com/ulalaunch; hashtags #ToBennuAndBack and #AtlasV.


Go Atlas! Go Centaur! Go OSIRIS-REx!