Atlas V 551

ULA's Atlas V rocket is a workhorse for the U.S. military, intelligence community and scientific researchers. Developed as a modular vehicle, each Atlas V is tailored to the needs of its passenger by adding as many as five side-mounted solid rocket boosters for increased lift performance and a variety of available payload fairings in various diameters and lengths to protect satellites during atmospheric ascent. The high-energy Centaur upper stage, which has been used to send spacecraft to every planet in our solar system, is incorporated into Atlas V to deliver the payloads to their intended destinations.

ULA will launch the AEHF-5 mission with the Atlas V 551 configuration rocket. The rocket features a kerosene-fueled common core booster, five solid rocket boosters, the hydrogen-fueled Centaur upper stage and a five-meter-diameter payload fairing. This configuration launched the New Horizons spacecraft to Pluto and the Juno probe to Jupiter, plus the Navy's five MUOS satellites and the Air Force's AFSPC-11 mission.
United Launch Alliance (ULA) will use an Atlas V 551 rocket to launch the fifth Advanced Extremely High Frequency (AEHF-5) communications satellite for the U.S. Air Force Space and Missile Systems Center from Space Launch Complex-41 at Cape Canaveral Air Force Station, Florida.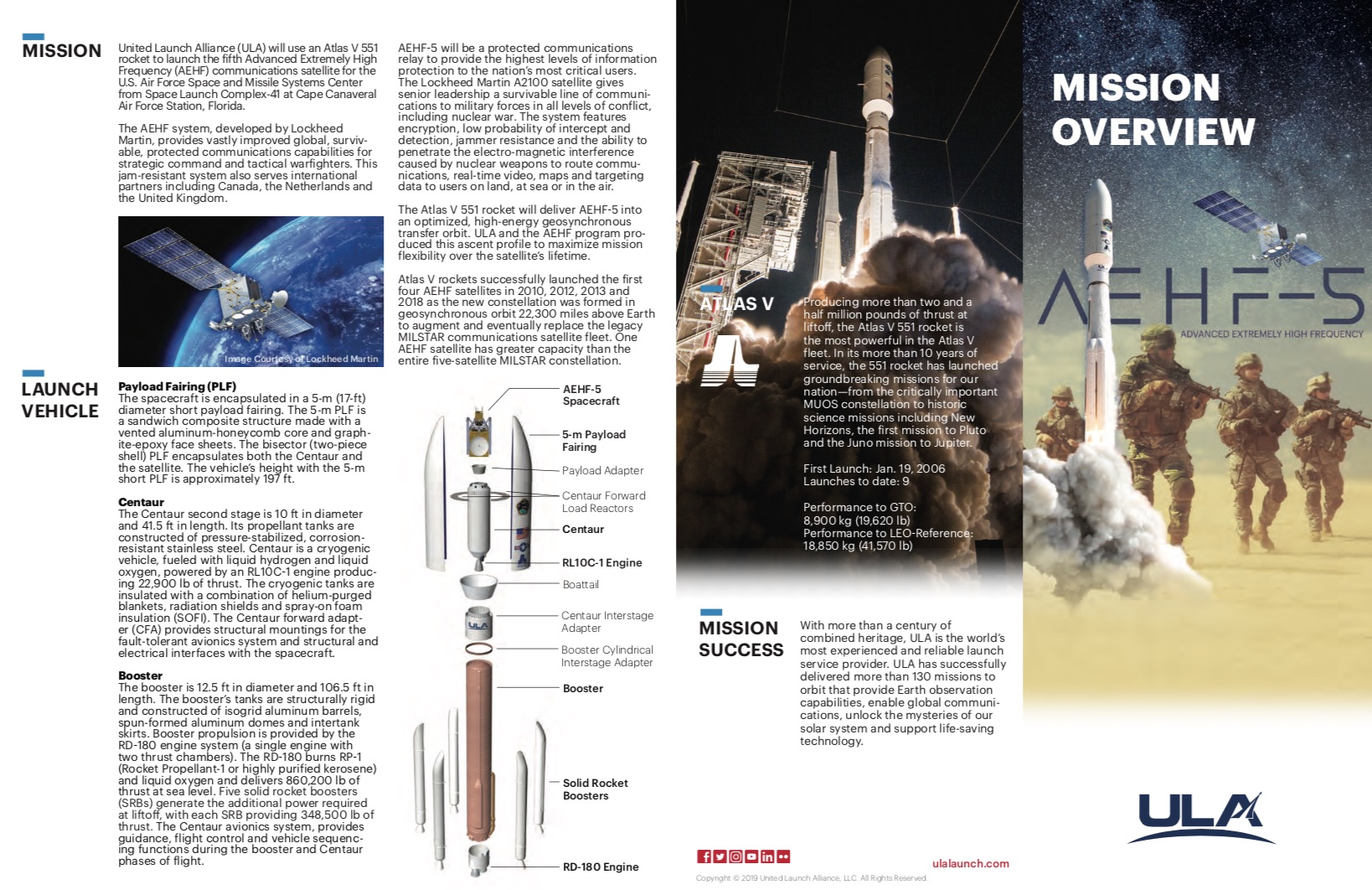 Space Launch Complex 41

Space Launch Complex 41, the East Coast home of the Atlas V rocket at Cape Canaveral Air Force Station in Florida, employs a "clean pad" concept of operations to ready launch vehicles and payloads for ascent into space. The rocket elements are assembled atop a Mobile Launch Platform inside the Vertical Integration Facility located adjacent to the launch pad. The platform and fully stacked Atlas V then travels by rail approximately 1,800 feet northward from the VIF to the pad for the final countdown, fueling and liftoff.

Complex 41 was constructed by the U.S. Air Force in the 1960s for the Titan rocket program. The site was rejuvenated in support of the Atlas V starting in the late 1990s.