A United Launch Alliance (ULA) Atlas V 531 rocket launched the SES-20 and SES-21 satellites into near-geosynchronous orbit to provide television broadcasting services across the United States. The commercial dual-payload launch is in service to satellite operator SES of Luxembourg. Liftoff occurred from Space Launch Complex-41 at Cape Canaveral Space Force Station, Florida.

Launch Date and Time: Oct. 4 at 5:36 p.m. EDT (2136 UTC).
Go Atlas! Go Centaur! Go SES-20! Go SES-21!

Live updates
To keep up to speed with updates to the launch countdown, dial the ULA launch hotline at 1-877-852-4321.
Join the conversation at Twitter, Facebook, Instagram and LinkedIn

#AtlasV #SES20 #SES21

A United Launch Alliance (ULA) Atlas V rocket will launch the SES-20 and SES-21 satellites for SES of Luxembourg. Liftoff will occur from Space Launch Complex-41 at Cape Canaveral Space Force Station, Florida. ULA's Atlas V rocket will launch the twin satellites into near-circular, near-geosynchronous orbits at only 1.9 degrees of inclination. Once separated, the satellites use on-board propulsion systems to circularize their orbits at 22,300 miles above the equator.

SES-20 and SES-21 are all-electric 702SP (small platform) satellites equipped with C-band payloads that will operate over the continental United States. The satellites will usher in the Federal Communications Commission's 5G Fast initiative, requiring satellite operators such as SES to clear from the lower 300 MHz to the upper 200 MHz of C-band spectrum to make way for 5G mobile services. With SES-20 and -21, SES will continue to deliver C-band broadcast and radio services as well as critical data network services in the coming months.

Payload Fairing (PLF)
The spacecraft is encapsulated in a 17.7-ft (5.4-m) diameter short payload fairing produced in the advanced Out-of-Autoclave manufacturing process. The 5-m PLF is a sandwich composite structure made with a vented aluminum-honeycomb core and graphite-epoxy face sheets. The bisector (two-piece shell) PLF encapsulates both the Centaur and the satellite. The vehicle's height with the 5-meter short PLF is approximately 196 ft (59.7 m).
Centaur
The Centaur second stage is 10 ft (3 m) in diameter and 41.5 ft (12.6 m) in length. Its propellant tanks are pressure-stabilized and constructed of corrosion-resistant stainless steel. Centaur is a cryogenic vehicle, fueled with liquid hydrogen and liquid oxygen, powered by an RL10C-1-1 engine producing 23,825 lbs (106 kilo-Newtons) of thrust. The cryogenic tanks are insulated with a combination of helium-purged blankets, radiation shields and spray-on foam insulation (SOFI). The Centaur forward adapter (CFA) provides structural mountings for the fault-tolerant avionics system and structural and electrical interfaces with the spacecraft.
Booster
The booster is 12.5 ft (3.8 m) in diameter and 106.5 ft (32.5 m) in length. The booster's tanks are structurally rigid and constructed of isogrid aluminum barrels, spun-formed aluminum domes and intertank skirts. Booster propulsion is provided by the RD-180 engine system (a single engine with two thrust chambers). The RD-180 burns RP-1 (Rocket Propellant-1 or highly purified kerosene) and liquid oxygen and delivers 860,200 lbs (3.83 mega-Newtons) of thrust at sea level. Three solid rocket boosters (SRBs) generate the additional power required at liftoff, with each providing 371,550 lbs (1.6 mega-Newtons) of thrust. The Centaur avionics system, provides guidance, flight control and vehicle sequencing functions during the booster and Centaur phases of flight.
Flight Profile

Space Launch Complex-41
//

Processing


Space Launch Complex-41, the East Coast home of the Atlas V rocket at Cape Canaveral Space Force Station in Florida, employs a "clean pad" concept of operations to ready launch vehicles and payloads for ascent into space. The rocket elements are assembled atop a Mobile Launch Platform inside the Vertical Integration Facility (VIF) located adjacent to the launch pad. The platform and fully stacked Atlas V then travel by rail approximately 1,800 feet northward from the VIF to the pad for the final countdown, fueling and liftoff. Complex 41 was constructed by the U.S. Air Force in the 1960s for the Titan rocket program. The site was rejuvenated in support of the Atlas V starting in the late 1990s.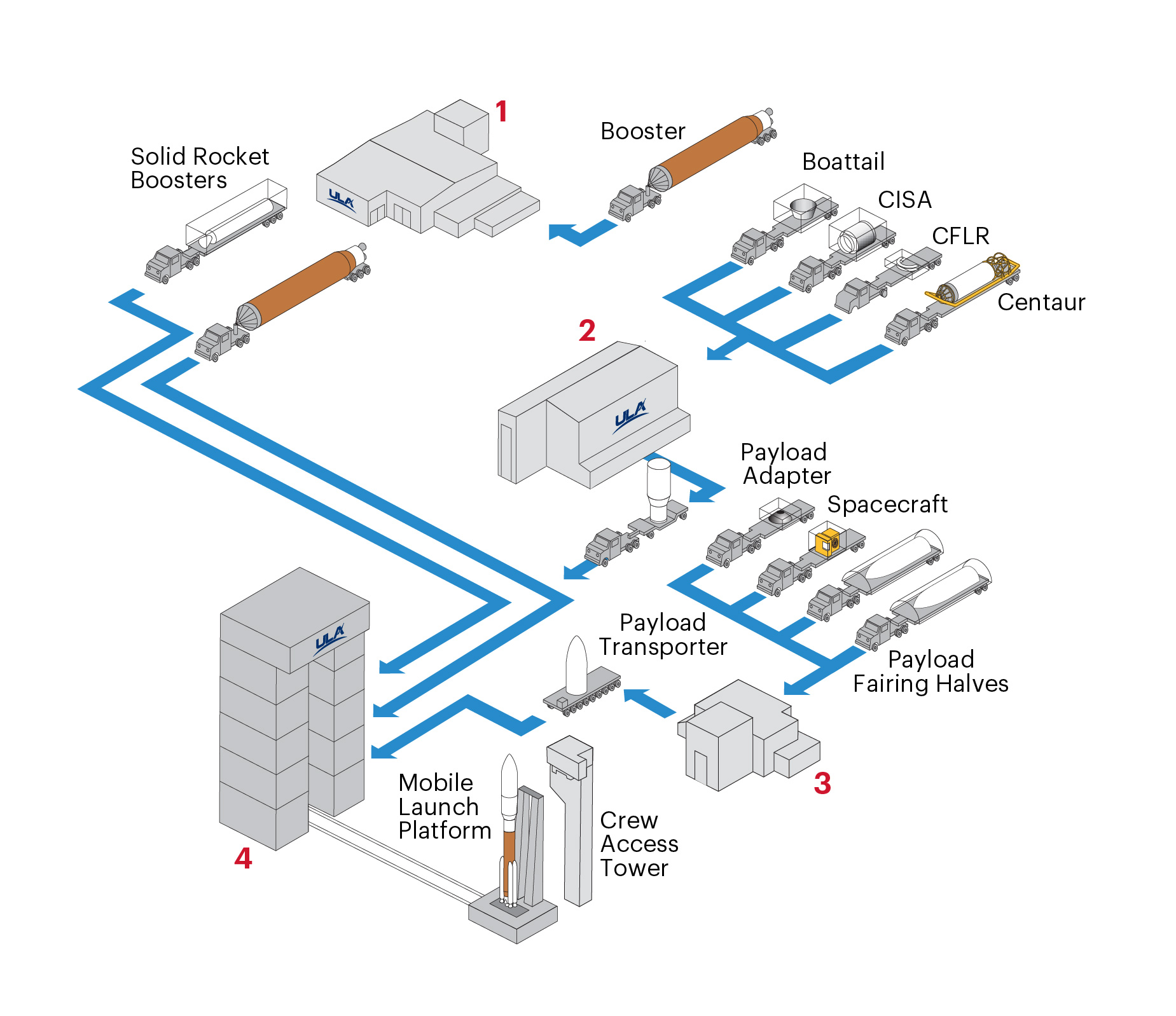 1. Atlas Spaceflight Operations Center (ASOC)
Launch Control Center
Mission Director's Center,
Mission Support Teams,
Launch Vehicle Horizontal Processing &
Ordnance Installation
2. Delta Operations Center (DOC)
Launch Control Center
Mission Director's Center,
Mission Support Teams,
Launch Vehicle Horizontal Processing &
Ordnance Installation
3. Payload Processing Facility
Spacecraft Processing,
Testing & Encapsulation
4. Vertical Integration Facility
Launch Vehicle Integration &
Testing, Spacecraft Mate &
Integrated Operations
Production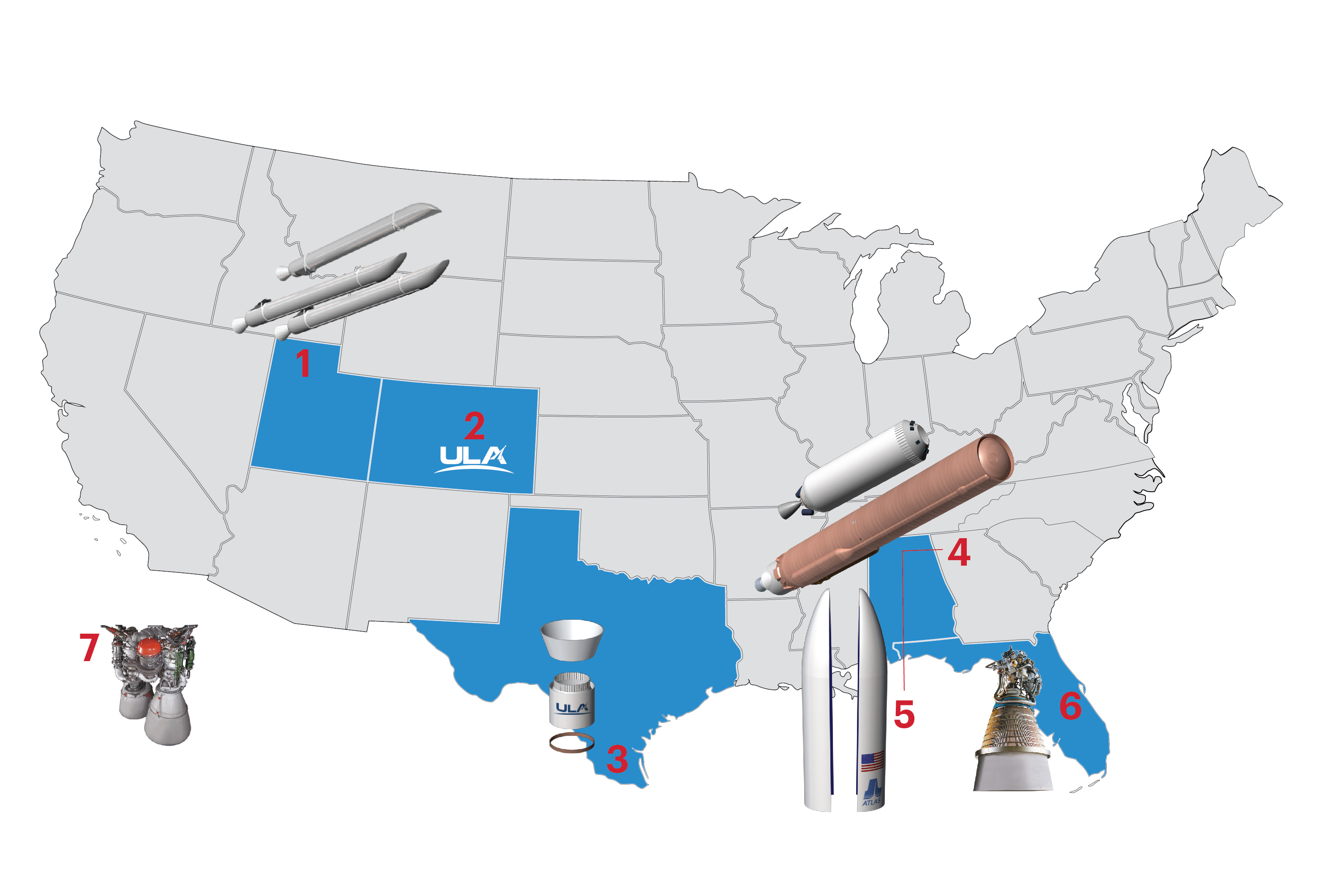 1. Promontory, UT
Solid Rocket Booster Fabrication
at Northrop Grumman
2. Denver, CO
ULA Headquarters &
Design Center Engineering
3. Harlingen, TX
Payload Adapter,
Booster Adapter &
Centaur Adapter Fabrication
4. Decatur, AL
Booster Fabrication & Final Assembly,
Centaur Tank Fabrication & Final Assembly
5. Decatur, AL
5-m Payload Fairing
Fabrication at Beyond Gravity
6. West Palm Beach, FL
RL10C-1-1 Engine Fabrication at
Aerojet Rocketdyne
7. Khimki, Russia
RD-180 Engine Fabrication at
NPO Energomash

Media
//

Downloads