The Delta II rocket
United Launch Alliance's Delta II rocket has provided dependable access to space for the U.S. military, NASA and commercial clients for nearly 30 years, launching 154 times since its debut on Feb. 14, 1989. The lasting legacy of the Delta II extends from creating modern GPS navigation on Earth to roving the surface of Mars.
Specs
Height: 132 feet
Weight: 358,000 pounds
Thrust: 650,000 pounds
Fuel: First stage uses kerosene and liquid oxygen; Second stage uses Aerozine 50 and nitrogen tetroxide
ICESat-2 will launch aboard a Delta II 7420-10C rocket features a kerosene-fueled first stage with an RS-27A main engine, four side-mounted solid rocket boosters that all ignite for liftoff, and a hypergolic second stage with an AJ10-118K engine. The payload is protected during atmospheric ascent by a 10-foot-diameter composite payload fairing.
A United Launch Alliance (ULA) Delta II 7420-10 rocket will deliver the Ice, Cloud and land Eleva- tion Satellite-2 (ICESat-2) spacecraft to a 250 nmi (463 km), near-circular polar orbit. Liftoff will occur from Space Launch Complex 2 at Vandenberg Air Force Base, California.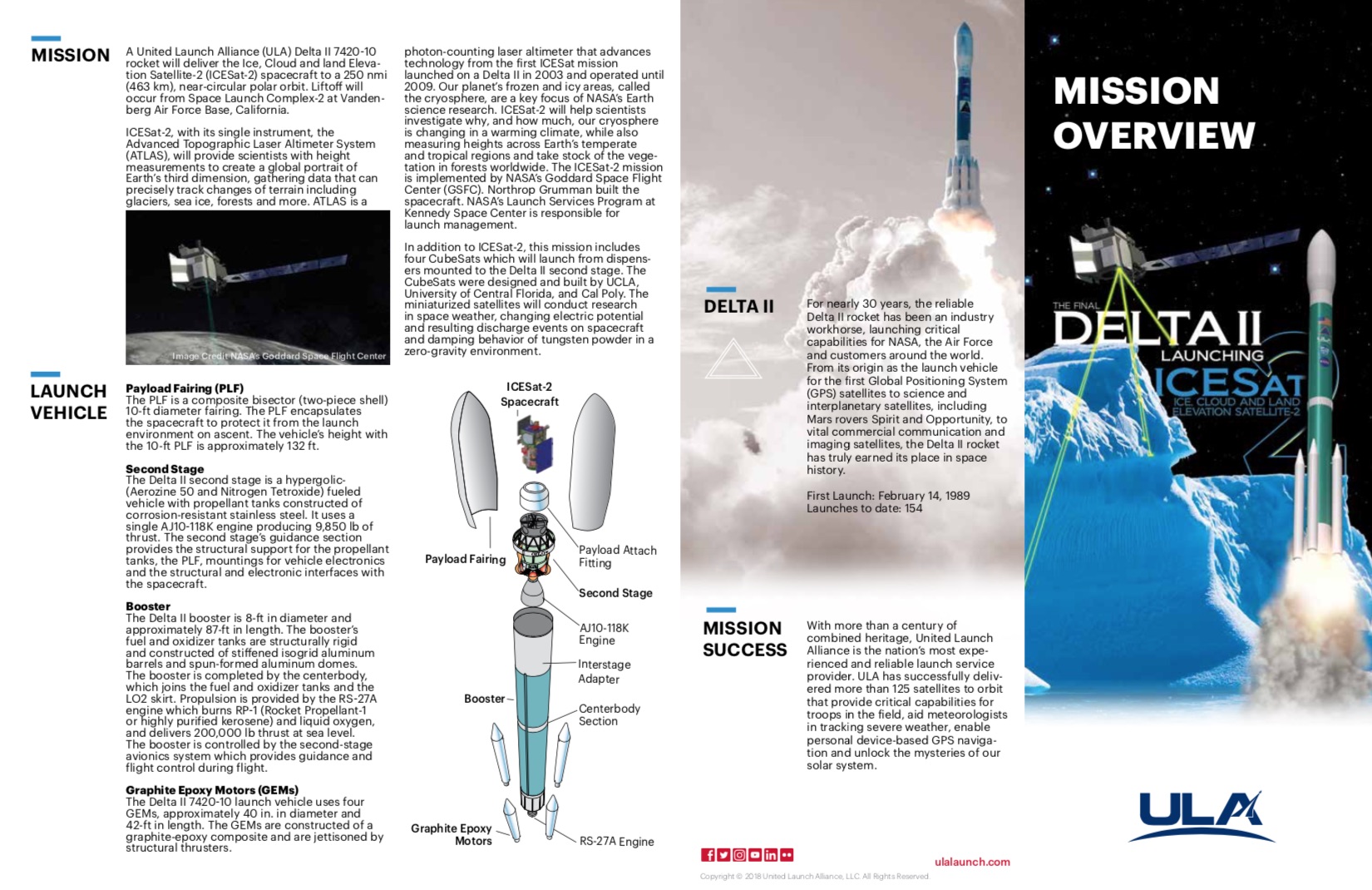 Space Launch Complex 2
Space Launch Complex-2, the West Coast home of the Delta II rocket at Vandenberg Air Force Base in California, is a classic launch pad design with a Fixed Umbilical Tower and a Mobile Service Tower. The rocket elements are sequentially hoisted and integrated atop the launch mount using the mobile gantry, which also provides the primary access and weather protection during pre-flight testing and then retracts a few hours before liftoff.
SLC-2 was constructed by the U.S. Air Force in 1958 for the Thor intermediate-range ballistic missile and has been in use by the Delta rocket family since 1966. ICESat-2 will be the 45th Delta II launch from this complex.