The Delta IV rocket
United Launch Alliance's Delta IV rocket has served the nation's high-priority U.S. Air Force and National Reconnaissance Office space programs with distinction since entering service in 2002. Having flown 36 missions in a variety of configurations ranging from medium-lift to heavy-lifter, the Delta IV continues the legacy of the Delta rocket family that dates to 1960.
Specs
Height: 233 feet
Weight: 1.6 million pounds
Thrust: 2.1 million pounds
Fuel: 465,000 gallons of liquid hydrogen and liquid oxygen, solid-fuel third stage
Parker Solar Probe will launch aboard a special three-stage configuration of the Delta IV Heavy rocket to embark on a journey to surf through the sun's corona. The rocket features three hydrogen-fueled common booster cores, each with an RS-68A main engine, to provide the initial thrust out of Earth's atmosphere, a Delta Cryogenic Second Stage with an RL10B-2 engine to achieve an intermediate escape orbit and a Northrop Grumman Innovation Systems solid-fuel third stage -- called the Star 48BV -- to deliver the final push to send Parker Solar Probe on its trajectory to the inner solar system. The spacecraft is protected during atmospheric ascent by a 63-foot-long bi-sector composite payload fairing.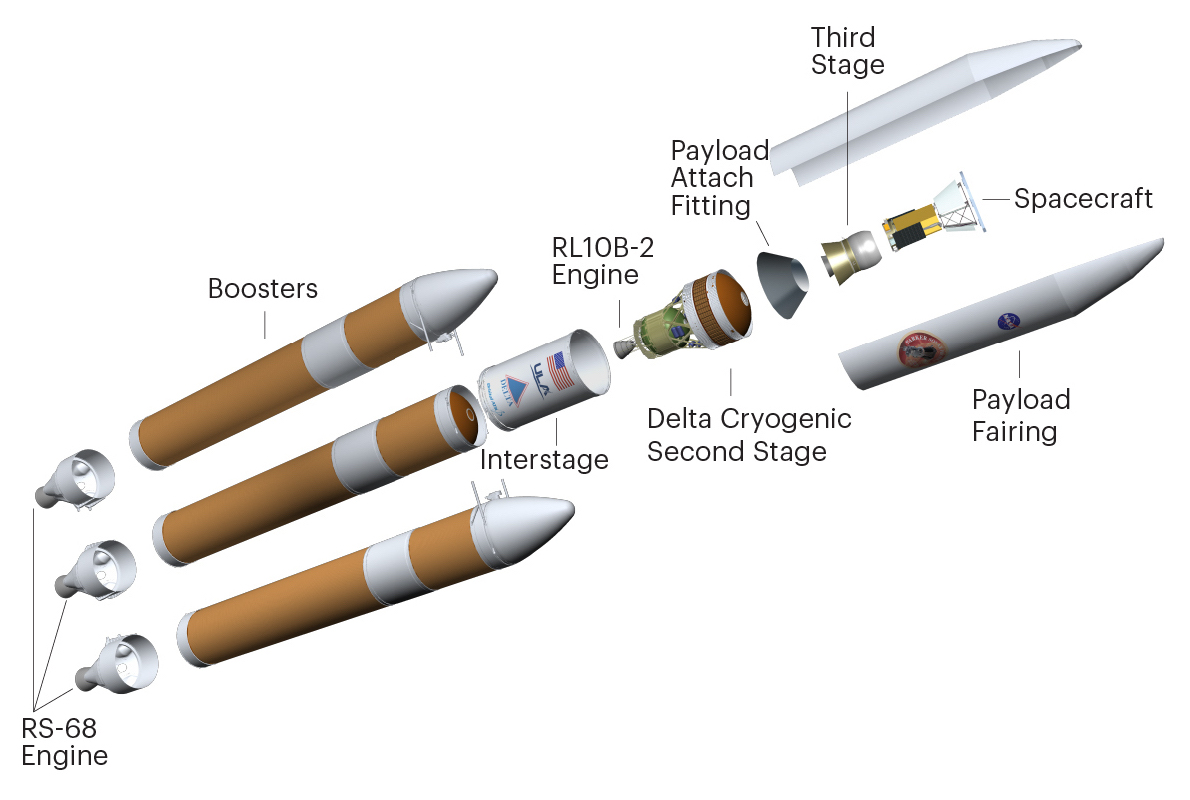 A United Launch Alliance (ULA) Delta IV Heavy rocket will deliver NASA's Parker Solar Probe to an interplanetary trajectory to the sun. Liftoff will occur from Space Launch Complex-37 at Cape Canaveral Air Force Station, Florida. NASA selected ULA's Delta IV Heavy for its unique ability to deliver the necessary energy to begin the Parker Solar Probe's journey to the sun.
Space Launch Complex 37
Space Launch Complex 37, the East Coast home of the Delta IV rocket at Cape Canaveral Air Force Station in Florida, is a classic launch pad design with a Fixed Umbilical Tower (FUT) and a Mobile Service Tower (MST). The core stages of the rocket are assembled in the nearby Horizontal Integration Facility, then rolled to the pad for attachment of the payload, final testing and the countdown. The mobile gantry is retracted to unveil the rocket several hours before liftoff.
NASA constructed SLC-37 in the 1960s for uncrewed test flights in the Apollo-Saturn program. The pad was rejuvenated in an extensive overhaul to support the Delta IV starting in the late 1990s. Parker Solar Probe will be the 38th launch from this complex and the 30th by a Delta IV.