Atlas V Rocket also Delivers 13 CubeSats to Orbit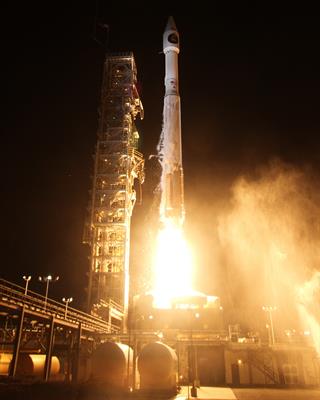 Vandenberg Air Force Base, Calif., (Oct. 8, 2015) – A United Launch Alliance (ULA) Atlas V rocket carrying a payload for the National Reconnaissance Office (NRO) and 13 CubeSats lifted off from Space Launch Complex-3 Oct. 8 at 5:49 a.m. PDT. Designated NROL-55, the mission is in support of national defense. This is ULA's 10th launch in 2015 and the 101st successful launch since the company was formed in December 2006.

"Congratulations on today's successful launch of NROL-55! ULA is honored to have collaborated with the NRO Office of Space Launch and the Air Force on the integration and launch of the NROL-55 spacecraft to orbit with our Atlas V vehicle," said Jim Sponnick, ULA vice president, Atlas and Delta Programs. "Launches like this only happen with exceptional teamwork by an extremely talented team and a one-launch-at-a-time focus on mission success."

The Atlas V rocket also delivered 13 Government Rideshare Advanced Concepts Experiment (GRACE) CubeSats to orbit. The nine NRO-sponsored CubeSats and four NASA-sponsored CubeSats were mounted to the Aft-Bulkhead Carrier located on the back end of the Centaur upper stage.

"The GRACE CubeSats will perform missions demonstrating tracking technologies, software-defined radio communications and will also conduct other measurements and experiments," said Sponnick. "We are happy that ULA could play a part in bringing these nano-satellites to orbit along with the NRO payload through a cost-effective rideshare."

The 13 CubeSats were developed by Aerospace Corporation, the Army's Space and Missile Defense Center, Tyvak, SRI International, the University of Alaska-Fairbanks, Salish Kootenai College, AMSAT and the Jet Propulsion Laboratory. Weighing 1-5 kilograms, they are developed, launched and controlled at a fraction of the cost of a typical operating satellite.

The NRO payload and GRACE CubeSats were launched aboard an Atlas V Evolved Expendable Launch Vehicle (EELV) 401 configuration vehicle, which includes a 4-meter-diameter payload fairing. The Atlas booster for this mission was powered by the RD AMROSS RD-180 engine and the Centaur upper stage was powered by the Aerojet Rocketdyne RL10C-1 engine.

ULA's next launch is the Atlas V Global Positioning System (GPS) IIF-11 satellite for the U.S. Air Force, scheduled for Oct. 30 from Space Launch Complex-41 from Cape Canaveral Air Force Station, Florida.

The EELV program was established by the U.S. Air Force to provide assured access to space for Department of Defense and other government payloads. The commercially developed EELV program supports the full range of government mission requirements, while delivering on schedule and providing significant cost savings over the heritage launch systems.

With more than a century of combined heritage, United Launch Alliance is the nation's most experienced and reliable launch service provider. ULA has successfully delivered more than 100 satellites to orbit that provide critical capabilities for troops in the field, aid meteorologists in tracking severe weather, enable personal device-based GPS navigation and unlock the mysteries of our solar system.

For more information on ULA, visit the ULA website at www.ulalaunch.com, or call the ULA Launch Hotline at 1-877-ULA-4321 (852-4321). Join the conversation at www.facebook.com/ulalaunch, twitter.com/ulalaunchand instagram.com/ulalaunch.