Delta IV AFSPC-4 Mission Overview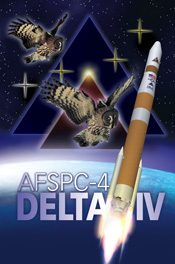 Rocket/Payload: A Delta IV Medium+ (4,2) will launch the AFSPC-4 mission for the U.S Air Force.

Date/Site/Launch Time: Monday, July 28, from Space Launch Complex (SLC)-37 at Cape Canaveral Air Force Station, Fla. Launch is planned for 6:43 p.m. EDT.

Viewing the Launch by Webcast: The live webcast will begin at 6:23 p.m. EDT.

Launch Notes: AFSPC-4 will be the 33rd ULA mission for the U.S. Air Force. It will be the eighth of 15 planned missions ULA is slated to launch in 2014, and ULA's 85th since the company formed in 2006.

Mission Description: The AFSPC-4 mission will deliver two Geosynchronous Space Situational Awareness Program (GSSAP) satellites to near-geosyn¬chronous orbit and will also carry an Automated Navigation and Guidance Experiment for Local Space (ANGELS) satellite.

The twin GSSAP spacecraft will support U.S. Strategic Command space surveillance operations as a dedicated Space Surveillance Network (SSN) sensor. The GSSAP will also support Joint Functional Component Command for Space (JFCC SPACE) tasking to collect space situational awareness data, allowing for more accurate tracking and characterization of man-made orbiting objects.

The ANGELS satellite is managed by the Air Force Research Laboratory (AFRL) Space Vehicles Directorate. As part of AFRL's research in advanced Space Situational Awareness (SSA), ANGELS examines techniques for providing a clearer picture of the environment surrounding our nation's vital space assets.

Launch Updates: To keep up to speed with updates to the launch countdown, dial the ULA launch hotline at 1-877-852-4321 or join the conversation at www.facebook.com/ulalaunch and twitter.com/ulalaunch; hashtag #AFSPC4.
Go Delta! Go AFSPC-4!