Tenth Successful ULA Launch of 2014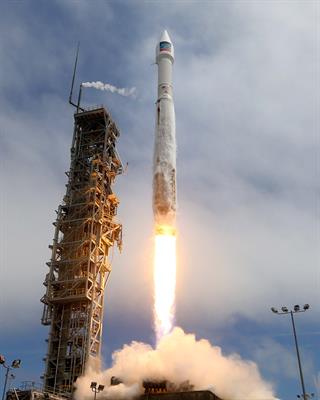 Vandenberg Air Force Base, Calif., (Aug. 13, 2014) – A United Launch Alliance (ULA) Atlas V rocket carrying the WorldView-3 satellite for DigitalGlobe launched at 11:30 a.m. PDT today from Space Launch Complex-3. Lockheed Martin Commercial Launch Services procured the Atlas V for this mission. This is the fourth successful launch in six weeks and the 87th successful mission since ULA was formed in December 2006.

"Congratulations to our commercial mission partners Lockheed Martin Commercial Launch Services and Digital Globe for today's spectacular launch of the Atlas V carrying the WorldView-3 satellite," said Jim Sponnick, ULA vice president, Atlas and Delta Programs. "The team's dedication to mission success, one launch at a time, brought us to today's successful launch, delivering WorldView-3 to provide the next generation in earth imaging capabilities for DigitalGlobe."

This mission was launched aboard an Atlas V 401 configuration vehicle, which includes a 4-meter-diameter payload fairing. The Atlas booster for this mission was powered by the RD AMROSS RD-180 engine, and the Centaur upper stage was powered by a single Aerojet Rocketdyne RL10A engine.

"This launch marks ULA's tenth successful launch of fifteen planned this year," said Sponnick. "The ULA team remains focused mission success and on-time deliveries for our customer's most valuable payloads."

WorldView-3 is the first multi-payload super-spectral, high resolution commercial satellite for earth observations and advanced geospatial solutions. This high spatial resolution multispectral satellite imagery is used for civil government mapping, land use planning, disaster relief, exploration, defense, intelligence, visualization and simulation environments.

ULA's next launch is the Atlas V CLIO mission for the U.S. government from Space Launch Complex-41 at Cape Canaveral Air Force Station, Florida.

With more than a century of combined heritage, United Launch Alliance is the nation's most experienced and reliable launch service provider. ULA has successfully delivered more than 80 satellites to orbit that provide critical capabilities for troops in the field, aid meteorologists in tracking severe weather, enable personal device-based GPS navigation and unlock the mysteries of our solar system. ULA – Bringing rocket science down to Earth.

For more information on ULA, visit the ULA website at www.ulalaunch.com, or call the ULA Launch Hotline at 1-877-ULA-4321 (852-4321). Join the conversation at www.facebook.com/ulalaunch and twitter.com/ulalaunch.