Atlas V CLIO Mission Brochure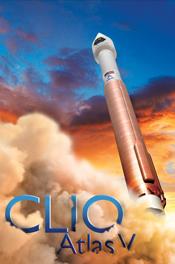 Rocket/Payload: An Atlas V 401 will launch the CLIO mission for the U.S. government.

Date/Site/Launch Time: Tuesday, Sept. 16, 2014, from Space Launch Complex-41 at Cape Canaveral Air Force Station, Florida. The 2-hour, 26-minute launch window opens at 5:44 p.m. EDT.

Viewing the Launch by Webcast: The live webcast will begin at 5:24 p.m. EDT.

Launch Notes: The CLIO mission will mark the 49th Atlas V launch and the 25th of the 401 configuration. CLIO also will be the 60th ULA launch from Cape Canaveral and the company's 11th of 2014.

Launch Updates: To keep up to speed with updates to the launch countdown, dial the ULA launch hotline at 1-877-852-4321 or join the conversation at www.facebook.com/ulalaunch and twitter.com/ulalaunch; look for the #CLIO hashtag.
Go Atlas! Go Centaur! Go CLIO!