Click here to watch live coverage of the Delta IV EFT-1 launch. Coverage begins Dec. 5 at 6 a.m. EST.

(UPDATE: Dec. 4, 2014, 10:42 am EST) The launch of the United Launch Alliance Delta IV Heavy rocket carrying NASA's Orion spacecraft for Lockheed Martin was scrubbed today when, after an extended hold for ground wind conditions, the liquid hydrogen fill and drain valves on both the port and center common booster cores did not properly close within the allotted time. The Orion spacecraft has no technical or operational issues and remains ready for launch.

Pending resolution of troubleshooting, the next launch is scheduled for Friday, Dec. 5 from Space Launch Complex-37 at Cape Canaveral Air Force Station, Florida. The launch window on Dec. 5 would open at 7:05 a.m. EST and remain open for two hours and 39 minutes. The forecast for Dec. 5 shows a 40 percent chance of favorable weather conditions for the launch tomorrow.

Delta IV Heavy Exploration Flight Test Mission Brochure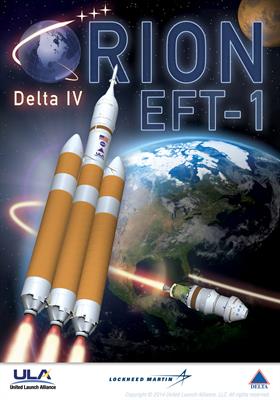 Rocket/Payload: A Delta IV Heavy will launch the Exploration Flight Test (EFT-1) mission for NASA, the first flight of the Orion Spacecraft.

Date/Site/Launch Time: Friday, Dec. 5, 2014, from Space Launch Complex (SLC)-37 at Cape Canaveral Air Force Station, Fla. Liftoff is targeted for 7:05 a.m. EST, at the beginning of a 2-hour, 39-minute launch window.

Mission Description: The flight will take Orion to an altitude of approximately 3,600 miles above the Earth's surface, more than 15 times farther than the International Space Station's orbital position. By flying Orion out to those distances, NASA will be able to see how Orion performs in and returns from deep space journeys.

Launch Notes: EFT-1 will mark the 28th Delta IV launch, and ULA's 90th launch overall.

Launch Updates: To keep up to speed with updates to the launch countdown, dial the ULA launch hotline at 1-877-852-4321 or join the conversation at www.facebook.com/ulalaunch, twitter.com/ulalaunch and instagram.com/ulalaunch; hashtags #Orion and #DeltaIV.