90th ULA Mission - Enabling the Next Phase of Human Space Exploration

Delta IV Heavy EFT-1 Mission Brochure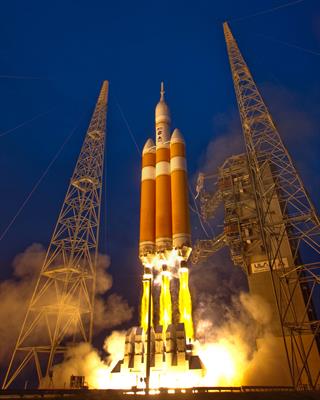 Cape Canaveral Air Force Station, Fla., (Dec. 5, 2014) – A United Launch Alliance (ULA) Delta IV Heavy rocket carrying NASA's Orion spacecraft for Lockheed Martin successfully launched from Space Launch Complex-37 at 7:05 a.m. EST today. This uncrewed flight test called Exploration Flight Test-1 tested Orion's systems critical to crew safety.

"We are truly honored to be part of this tremendous mission team and that ULA's Delta IV vehicle was selected to launch Orion's critical flight test for Lockheed Martin and for NASA," said Jim Sponnick, ULA vice president, Atlas and Delta Programs. "We congratulate our mission partners on this truly momentous flight test. The data that Orion will gather from today's challenging test is vital to reduce the risks for future crewed missions to distant locations."

This mission was launched aboard a Delta IV Heavy configuration launch vehicle which featured a center common booster core along with two strap-on common booster cores. The ULA Delta IV Heavy is currently the world's largest rocket, providing the nation with reliable and proven heavy lift capability. Each common booster core was powered by an RS-68 Liquid Hydrogen/Liquid Oxygen engine producing 663,000 pounds of thrust. A single RL10 Liquid Hydrogen/Liquid Oxygen engine powered the second stage. The booster and upper stage engines are both built by Aerojet Rocketdyne. ULA constructed the Delta IV Heavy launch vehicle in Decatur, Alabama. This is ULA's 13th launch in 2014, the 28th Delta IV mission and the eight Delta IV Heavy launch.

With more than a century of combined heritage, United Launch Alliance is the nation's most experienced and reliable launch service provider. ULA has successfully delivered 90 satellites to orbit that provide critical capabilities for troops in the field, aid meteorologists in tracking severe weather, enable personal device-based GPS navigation and unlock the mysteries of our solar system.

For more information on ULA, visit the ULA website at www.ulalaunch.com, or call the ULA Launch Hotline at 1-877-ULA-4321 (852-4321). Join the conversation at www.facebook.com/ulalaunch, twitter.com/ulalaunchand instagram.com/ulalaunch.