Four Educational CubeSats Launched as Secondary Payload

Delta II SMAP Mission Brochure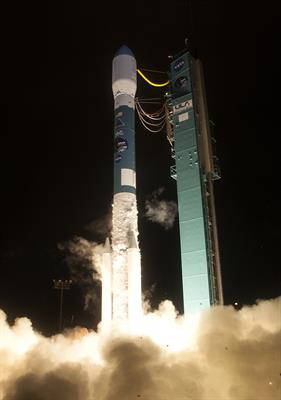 Vandenberg Air Force Base, Calif., (Jan. 31, 2015) – A United Launch Alliance (ULA) Delta II rocket carrying the Soil Moisture Active Passive (SMAP) payload for NASA lifted off from Space Launch Complex-2 at 6:22 a.m. PST today. This launch marks ULA's second launch of 13 planned for 2015, and the 93rd successful mission since the company was formed.

"Congratulations to the NASA Launch Services Program team, JPL and all of our mission partners on today's successful launch of the SMAP satellite," said Jim Sponnick, ULA vice president, Atlas and Delta Programs. "It is our honor to launch this important Earth science mission to help scientists observe and predict natural hazards, and improve our understanding of Earth's water, energy and carbon cycles."

The SMAP mission was launched aboard a Delta II 7320 configuration vehicle featuring a ULA first stage booster powered by an Aerojet Rocketdyne RS-27A main engine and three Alliant Techsystems (ATK) strap-on solid rocket motors. An Aerojet Rockedyne AJ10-118K engine powered the second stage. The payload was encased by a 10-foot-diameter composite payload fairing.

In addition, the Delta II delivered four educational cubesats as part of NASA's Educational Launch of Nanosatellite (ELaNa) initiative.

The SMAP mission is NASA's first Earth-observing satellite mission designed to collect global observations of surface soil moisture and its freeze/thaw state, data that have broad applications for science and society.

ULA's next launch is the Atlas V Magnetospheric Multiscale (MMS) mission for NASA, scheduled for March 12 from Space Launch Complex-41 from Cape Canaveral Air Force Station, Florida.

With more than a century of combined heritage, United Launch Alliance is the nation's most experienced and reliable launch service provider. ULA has successfully delivered more than 90 satellites to orbit that provide critical capabilities for troops in the field, aid meteorologists in tracking severe weather, enable personal device-based GPS navigation and unlock the mysteries of our solar system.

For more information on ULA, visit the ULA website at www.ulalaunch.com, or call the ULA Launch Hotline at 1-877-ULA-4321 (852-4321). Join the conversation at www.facebook.com/ulalaunch, twitter.com/ulalaunchand instagram.com/ulalaunch.