Atlas V MMS Mission Overview Brochure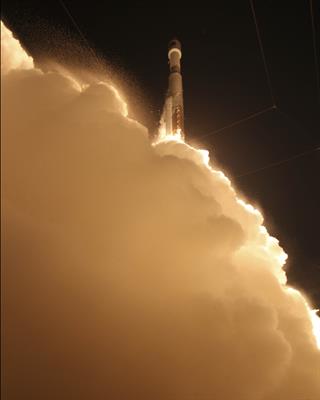 Cape Canaveral Air Force Station, Fla., (March 13, 2015) – A United Launch Alliance (ULA) Atlas V rocket carrying the Magnetospheric Multiscale (MMS) payload for NASA lifted off from Space Launch Complex-41 at 10:44 p.m. EDT on March 12, 2015. This launch marks ULA's third launch of 13 planned for 2015, and the 94th successful mission since the company was formed.

"It is our honor to launch this mission that will study the physics of magnetic reconnection. This energy process is one of the key drivers of space weather which affects communication networks, like GPS navigation and electrical power grids here on earth," said Jim Sponnick, ULA vice president, Atlas and Delta Programs. "Congratulations to the NASA Launch Services Program team, the NASA Goddard Space Flight Center team, Southwest Research Institute, all of our mission partners and the entire MMS team on this successful launch of the MMS constellation."

This mission was launched aboard an Atlas 421 configuration vehicle, which includes a 4-meter-diameter payload fairing along with two Aerojet Rocketdyne solid rocket boosters attached to the Atlas booster. The Atlas booster for this mission was powered by the RD AMROSS RD-180 engine, and the Centaur upper stage was powered by the Aerojet Rocketdyne RL10A engine. This is ULA's fourth launch of the 421 configuration, and NASA's 12th mission to launch on an Atlas V rocket.

MMS is a NASA Solar Terrestrial Probes mission consisting of four identical science observatories whose objective is to understand the microphysics of magnetic reconnection. The four MMS observatories are designed, built and operated by NASA's Goddard Space Flight Center (GSFC) in Greenbelt, Maryland and a science and instrument team led by Southwest Research Institute (SwRI) in San Antonio, Texas.

ULA's next launch is the Delta IV GPS IIF-9 mission for the United States Air Force, scheduled for March 25 from Space Launch Complex-37 from Cape Canaveral Air Force Station, Florida.

With more than a century of combined heritage, United Launch Alliance is the nation's most experienced and reliable launch service provider. ULA has successfully delivered more than 90 satellites to orbit that provide critical capabilities for troops in the field, aid meteorologists in tracking severe weather, enable personal device-based GPS navigation and unlock the mysteries of our solar system.

For more information on ULA, visit the ULA website at www.ulalaunch.com, or call the ULA Launch Hotline at 1-877-ULA-4321 (852-4321). Join the conversation at www.facebook.com/ulalaunch, twitter.com/ulalaunchand instagram.com/ulalaunch.