Vulcan Name Chosen by America with more than 1 Million Online Votes Cast

Multimedia

Vulcan Product Page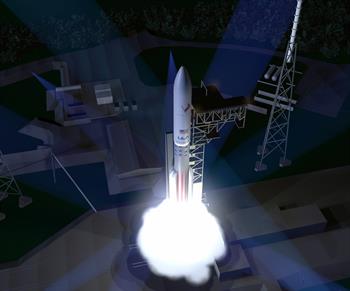 Colorado Springs, Colo., (April 13, 2015) -- United Launch Alliance (ULA) unveiled its Next Generation Launch System (NGLS) today at the 31st Space Symposium. The new rocket, Vulcan, will transform the future of space by making launch services more affordable and accessible. The NGLS brings together decades of experience on ULA's reliable Atlas and Delta vehicles, combining the best features of each to produce an all-new, American-made rocket that will enable mission success from low Earth orbit all the way to Pluto.

"More capabilities in space mean more capabilities here on earth," said Tory Bruno, president and CEO of United Launch Alliance. "Because the Next Generation Launch System will be the highest-performing, most cost-efficient rocket on the market, it will open up new opportunities for the nation's use of space. Whether it is scientific missions, medical advancements, national security or new economic opportunities for businesses, ULA's new Vulcan rocket is a game-changer in terms of creating endless possibilities in space."

To help give all Americans a chance to play a role in the future of space, last month ULA launched an online naming competition that allowed Americans to vote on their favorite name for the NGLS. More than one million votes were cast, and Vulcan was the top choice.

"As the company currently responsible for more than 70 percent of the nation's space launches, it is only fitting that America got to name the country's rocket of the future," added Bruno.

By streamlining the processes and rocket design, and developing a new all-American engine, ULA will continue to be the country's most innovative, cost-efficient and technically rigorous launch company, providing a wide range of services to a broad customer base – including the most critical U.S. government missions.

"ULA's precision and focus makes the remarkable seem routine. Our track record of 95 successful launches in less than nine years – an average of one launch per month – is unmatched in the industry. Our ability to deliver critical national security, scientific and commercial satellites into the correct orbit every time is filled with risks and challenges, and ULA has delivered every time. ULA's reliability is and will continue to be part of the mission," Tory Bruno concluded.

At today's news announcement, Bruno also unveiled the Sensible, Modular, Autonomous Return Technology (SMART) initiative, which will be introduced into NGLS and allow ULA to reuse the most expensive portion of the first stage – the booster main engines – via mid-air capture. This allows a controlled recovery environment providing the confidence needed to re-fly the hardware.

Step one of NGLS will consist of a single booster stage, the high-energy Centaur second stage and either a 4- or 5-meter-diameter payload fairing. Up to four solid rocket boosters (SRB) augment the lift off power of the 4-meter configuration, while up to six SRBs can be added to the 5-meter version.

In step two, the Centaur second stage will be replaced by the more powerful, innovative Advanced Cryogenic Evolved Stage (ACES), making the NGLS capability that of today's Delta IV Heavy rocket. ACES can execute almost unlimited burns, extending on-orbit operating time from hours to weeks.

Last year, ULA announced that it had partnered with Blue Origin, LLC, a privately funded aerospace company owned by Amazon.com founder Jeff Bezos, to provide a cutting-edge engine for the NGLS while also providing a viable alternative to the Russian-made RD-180. This collaboration to fund the development of a new, U.S.-made BE-4 rocket engine, is part of the cost-reduction innovation for our customers. The BE-4 is designed for low recurring cost and will meet commercial and NASA requirements as well as those of the U.S. Air Force's Evolved Expendable Launch Vehicle (EELV) program. The BE-4 uses low-cost liquid natural gas fuel and is designed for reuse.

With more than a century of combined heritage, United Launch Alliance is the nation's most experienced and reliable launch service provider. ULA has successfully delivered more than 90 satellites to orbit that provide critical capabilities for troops in the field, aid meteorologists in tracking severe weather, enable personal device-based GPS navigation and unlock the mysteries of our solar system.

For more information on ULA, visit the ULA website at www.ulalaunch.com. Join the conversation at www.facebook.com/ulalaunch, twitter.com/ulalaunch, and instagram.com/ulalaunch.