Atlas V AFSPC-5 Mission Brochure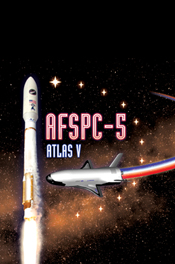 Atlas V AFSPC-5 Photos and Videos

Rocket/Payload: A United Launch Alliance Atlas V 501 will launch the AFSPC-5 mission for the U.S. Air Force.

Date/Site/Launch Time: May 20, 2015, from Space Launch Complex (SLC)-41 at Cape Canaveral Air Force Station, Florida. The launch windows are 11:05-11:15 a.m. and 12:42-12:52 p.m. EDT.

Viewing the Launch by Webcast: The live webcast will begin at 10:45 a.m. EDT.

Mission Description: AFSPC-5 is carrying OTV-4 for the U.S. Air Force in support of national security.

The Atlas V vehicle will also launch an Aft Bulkhead Carrier (ABC) containing eight P-Pods that will release 10 CubeSats. Following primary spacecraft separation the Centaur will change altitude and inclination in order to release the CubeSat spacecraft which are sponsored by the
National Reconnaissance Office (NRO) and the National Aeronautics and Space Administration (NASA). The ten CubeSats were developed by the U.S. Naval Academy, the Aerospace Corporation, the Air Force Research Laboratory, California Polytechnic State University, and Planetary Society.

Atlas V AFSPC-5 CubeSat Information

Launch Notes: AFSPC-5 marks ULA's 96th mission since the company was founded in 2006 and the fifth ULA launch of 2015. AFSPC-5 also will be the 54th Atlas V launch since the vehicle's inaugural mission in 2002

Launch Updates: To keep up to speed with updates to the launch countdown, dial the ULA launch hotline at 1-877-852-4321 or join the conversation at www.facebook.com/ulalaunch, twitter.com/ulalaunch and instagram.com/ulalaunch. Look for the #AtlasV and #AFSPC5 hashtags.
Go Atlas! Go Centaur! Go AFSPC-5!