Mission Overview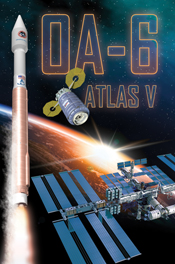 Rocket/Payload: A United Launch Alliance Atlas V 401 will launch Orbital ATK's Cygnus™ spacecraft on the initial leg of its cargo resupply mission to the International Space Station (ISS).

Date/Site/Launch Time: Tuesday, March 22, from Space Launch Complex-41 at Cape Canaveral Air Force Station, Florida. The 30-minute launch window opens at approximately 11:05 p.m. EDT.

Webcast:The live webcast will begin at 10 p.m. EDT.

Mission Description: Cygnus is a low-risk design incorporating elements drawn from Orbital ATK and its partners' existing, flight-proven spacecraft technologies. Cygnus consists of a common Service Module (SM) and a Pressurized Cargo Module (PCM). The SM is assembled and tested at Orbital ATK's Dulles, Virginia, satellite manufacturing facility and incorporates systems from Orbital ATK's flight-proven LEOStar™ and GEOStar™ satellite product lines. The PCM is based on the Multi-Purpose Logistics Module (MPLM), developed and built by Thales Alenia Space of Italy.

Launch Notes: OA-6 will mark the 62nd launch of the Atlas V and ULA's 106th launch since the company was founded in 2006. This will be ULA's second mission supporting ISS cargo resupply.

Launch Updates: To keep up to speed with updates to the launch countdown, dial the ULA launch hotline at 1-877-852-4321 or join the conversation at www.facebook.com/ulalaunch, twitter.com/ulalaunch and instagram.com/ulalaunch; hashtags #Cygnus and #AtlasV.


Go Atlas! Go Centaur! Go OA-6!