Atlas V MUOS-5 Mission Overview

Rocket/Payload: An Atlas V 551 will launch the U.S. Navy's fifth Mobile User Objective System (MUOS-5) satellite, built by Lockheed Martin.

Date/Site/Launch Time: Friday, June 24, 2016, from Space Launch Complex-41 at Cape Canaveral Air Force Station, Florida. The 44-minute launch window opens at 10:30 a.m. EDT.

Webcast: The live broadcast will begin at 10:10 a.m. EDT.

Atlas V MUOS-5 Webcast Coordinates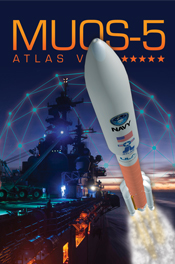 Mission Description: The fifth Mobile User Objective System (MUOS-5) satellite is the latest addition to a network of orbiting satellites and relay ground stations that is revolutionizing secure communications for mobile military forces. Users with operational MUOS terminals can seamlessly connect beyond line-of-sight around the world and into the Global Information Grid. MUOS' new commercial, cellular-based capabilities include simultaneous, crystal-clear voice, video and mission data, over a secure high-speed Internet Protocol-based system.

Launch Notes: MUOS-5 will mark the 63rd Atlas V since the vehicle's inaugural launch in August 2002. MUOS-5 will be the seventh mission to launch in the 551 configuration; other missions launched in this configuration include four previous MUOS missions as well as the New Horizons mission to Pluto and the Juno mission to Jupiter.

Launch Updates: To keep up to speed with updates to the launch countdown, dial the ULA launch hotline at 1-877-852-4321 or join the conversation at www.facebook.com/ulalaunch, twitter.com/ulalaunch and instagram.com/ulalaunch. Hashtags: #MUOS, #AtlasV.


Go Atlas! Go Centaur! Go MUOS-5!