Atlas V OA-7 Mission Overview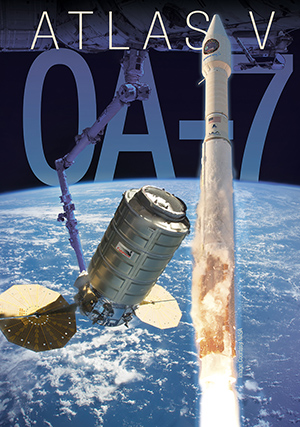 Rocket/Payload:A United Launch Alliance Atlas V 401 will launch Orbital ATK's Cygnus™ spacecraft on the initial leg of its cargo resupply mission to the International Space Station (ISS). Date/Site/Launch Time: Tuesday, April 18, from Space Launch Complex-41 at Cape Canaveral Air Force Station. The 30-minute launch window opens at 11:11 a.m. EDT.

Live Broadcast: The live broadcast will begin at 10 a.m. EDT. The first-ever live 360 launch feed will begin at 11:01 a.m. EDT.

Mission Description: Orbital ATK developed the Cygnus advanced maneuvering spacecraft to perform ISS cargo delivery missions under the Commercial Resupply Service (CRS) contract with NASA. At a total weight of approximately 7,225 kg (15,928 lb), OA-7 will include approximately 3,380 kg (7,452 lb) of internal cargo and an 83 kg (183 lb) external deployer carrying CubeSats.

Launch Notes: This mission marks the third time ULA's Atlas V has launched Orbital ATK's Cygnus™ spacecraft on its way to the ISS. OA-7 will be the 71st launch of the Atlas V rocket since its first launch in 2002. The Atlas V 401 configuration rocket has flown 35 times, supporting a diverse set of missions, including national security, science and exploration, commercial as well as International Space Station resupply.

Launch Updates: To keep up to speed with updates to the launch countdown, dial the ULA launch hotline at 1-877-852-4321 or join the conversation at www.facebook.com/ulalaunch, twitter.com/ulalaunch and instagram.com/ulalaunch; hashtags #AtlasV and #OA7.


Go Atlas! Go Centaur! Go OA-7!