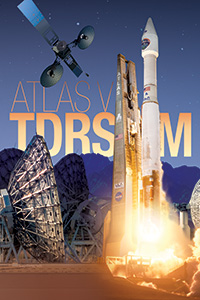 Rocket: Atlas V 401

Payload: NASA's Tracking and Data Relay Satellite (TDRS)-M

Launch Date: Friday, Aug. 18, 2017

Launch Time: Tune in beginning at 7:30 a.m. EDT

Live Broadcast: Stay tuned for how you can watch live

Launch Location: Space Launch Complex-41 at Cape Canaveral Air Force Station, Florida
Mission Overview

Mission Description: The addition of TDRS-M to the Space Network (SN) will provide the ability to support space communication for an additional 15 years. The network consists of TDRS satellites that transmit data to and from ground stations on Earth for NASA missions and expendable launch vehicles. Without the Space Network, scientists, engineers and control room staff would be unable to readily access data from missions like the Hubble Space Telescope and the International Space Station.

Launch Notes: This launch will be ULA's fifth of 2017 and 120th overall. A ULA Atlas V also launched TDRS-K mission in 2013 and TDRS-L in 2014. This mission will mark the 72nd Atlas V rocket since its inaugural launch in 2002.

Launch Updates: To keep up to speed with updates to the launch countdown, dial the ULA launch hotline at 1-877-852-4321 or join the conversation at www.facebook.com/ulalaunch, twitter.com/ulalaunch and instagram.com/ulalaunch.


Go Atlas! Go Centaur! Go TDRS-M!